Create your free online birth chart showing all astrological signs, with full interpretations, get your daily horoscope and astrology compatibility chart, progressions and more. Payment is requested for regular users.
01/01/2000
The stars now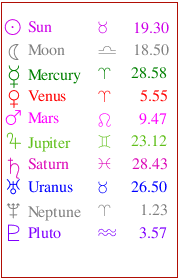 Please send any comments or bug reports to
frank@ceze.com
This site uses session cookies to guide users from one page to another, these cookies contain no other information and are not used for any other purpose. The site will not work without these cookies.
The data base of birth charts is also not used for any purpose than to display the charts the user has created. Please do not enter any real names so that the charts remain anonymous
The history of payments is supplied by Paypal, this site only uses this history for payment dates, but of course cannot account for what Paypal does with user information.
Click here to change your options